1982 Jeep CJ-7 Jamboree
The Rarest CJ-7 Ever Built


Jambo Parts -- Tire Cover
Black Vinyl Spare Tire Cover with Jamboree Special Imprint




(Printing in Straight Shade Simulation of Body Color)




The Jambo came with a specially designed and matching spare tire cover. Notice that the color was supposed to match the body color (Topaz Gold Metallic). It only fit the small polyspare. For this reason, most owners tossed the tire cover in favor of a larger cover to fit their full-size spare. The tire cover is nearly impossible to find today.
The Jambo came with a specially designed tire cover that fit the small (P225) polyspare. Today, the tire cover is probably the hardest Jambo item to come by. Some guys will buy an entire Jambo just to get the tire cover!
Just what color the original tire covers were is an interesting question. Here is a picture of an original tire cover that was used on the Jambo. Notice that printing looks yellow to gold in color. This makes some sense because the Jambo was gold.
However, it was TOPAZ Gold Metallic, not gold. Below, on the left, is a picture of a Jambo tire cover that was never used! It has much more of an orange hue. On the right, is that same tire cover installed on Jambo #0152, which was repainted Topaz Gold Metallic. Though this Jambo has been repainted, it was carefully repainted to reproduce the original color as closely as possible (you can read more about that here).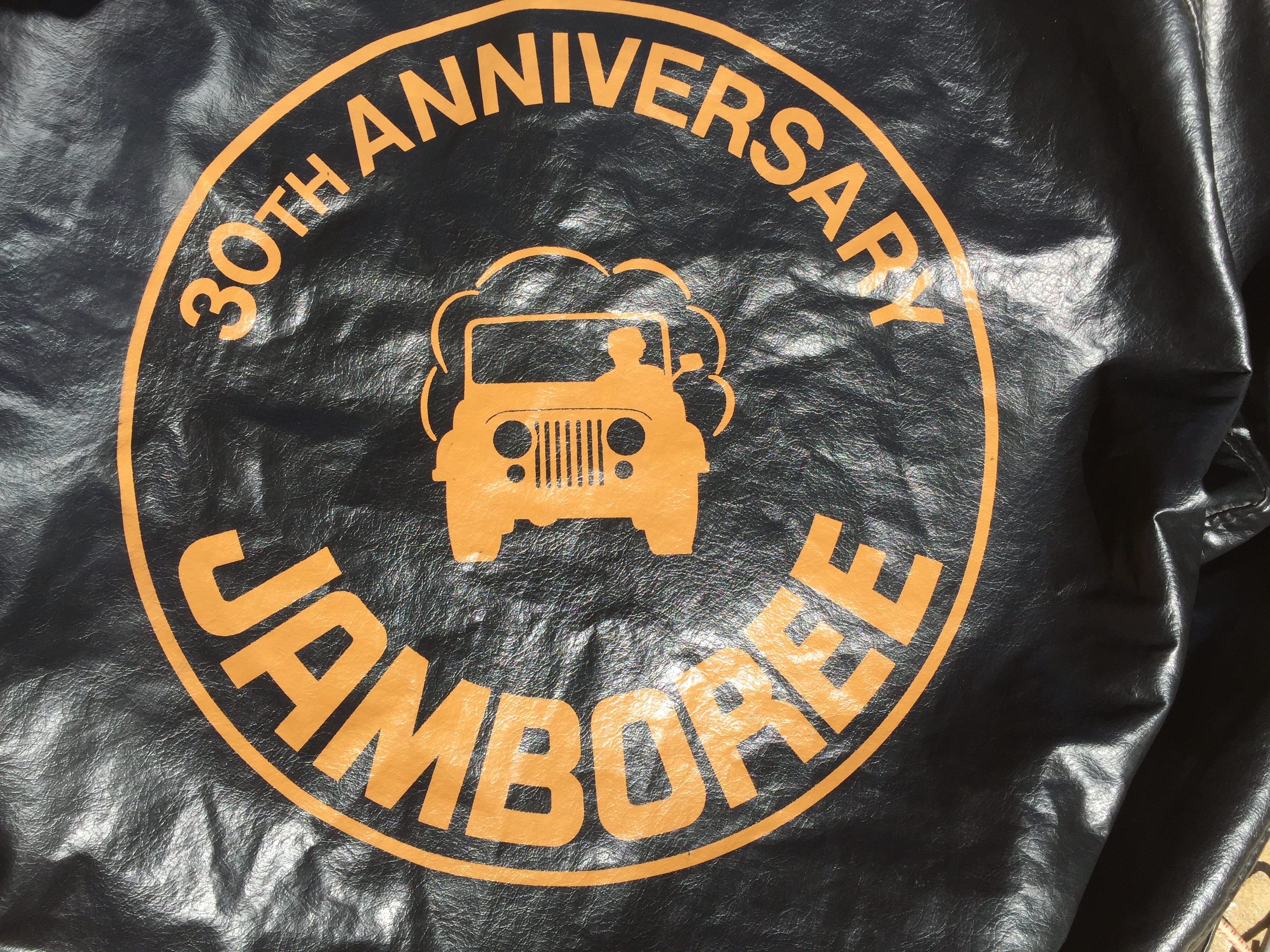 Here is a comparison of the original Jambo tire cover (bottom-center) to two old Jambo tire covers. The color difference is stark. The Jambo tire covers we see today are clearly faded! Originally, they were much closer to an orange-gold color--much closer to Topaz Gold than straight Gold.
We are currently reproducing the Jambo tire cover. It will be screen printed and made out of black crush, just like the original! The color will match the original! If you want a reproduction tire cover, please email The Jambo Registry (jambo152@82jambo.com).

Jeep is a registered trademark of FCA US LLC.
© Copyright 2018. J. Eric Bickel. All rights reserved
The Jambo Registry is a trademark of www.82jambo.com.


UA-83787031-1