1982 Jeep CJ-7 Jamboree
The Rarest CJ-7 Ever Built


Jambo Parts -- Rocker Molding
Black Rocker Panel Molding (Renegade/Laredo Pkg)


Jambo rockers were part of the decor group and were the same ones used on the Laredo. Jambo rockers are supposed to be black. What today look like aluminum or chrome rockers are actually faded anodized black rockers. The Jambo was designed by Jim W. Alexander. Do you really think a designer would put sliver colored rockers next to gold paint? Didn't your wife tell you that she can't wear silver and gold together?

If you are looking for this part check out our parts for sale.

What Color are Jambo Rockers?
Today, almost all Jambos have what look to be bright or anadozied alumnium rocker molding (by the way, either spelling of "molding" or "moulding" is correct).

Actually, this issue relates to all CJs, not just Jambos. There are no CJs in the 1982-1986 sales catalog with bright rockers.

Because there is so much confusion on this issue with lots of bad information available on the innerwebs, we are going to walk through this carefully.

To begin, according to the 1981-1986 Parts Catalog, Jeep only made two kinds of rockers: chrome or black.

Jeep also refers to chrome rockers as "bright" rockers. The chrome rockers are not actually chrome-plated. Instead, they are bright anodized rockers. These rockers were polished and then anodized. We don't know exactly how they were polished. They could have been mechanically polished, electro-polished, or bright dipped in acid. We will refer to these rockers as "bright" instead of chrome.

Jeep did not make make light black or purplish rockers. You had bright or you had black.

The parts numbers were:

1. Passenger side (not shown to the right): Part # J545 3022
2. Driver side: Part # J545 3021

Here is the page from the parts catalog.


Okay, so the rockers need to be bright or black. Perhaps they are actually bright.
Let's take a look at some pictures of rockers off of #0152. The top left picture compares the front side of a new old stock (NOS) black rocker (this rocker was never installed and was stored in a box for at least 35 years--this is what the black rockers are supposed to look like) to the front side of the rockers removed from #0152. Notice, there is quite a difference. The top right picture compares the back side (the side that has not been exposed to the sun since the Jambo left the factory in 1982) of these same rockers! The bottom left picture shows the top side of these same rockers. The bottom right picture compares the bottom of these rockers, which is not as exposed to the sun. Again, the rocker on the left is an NOS black rocker. The rocker in the middle is clearly black. Obviously, the rockers off of #0152 were black, but have faded.
It is well known that colored anodizing fades. It is especially sensitive to UV radiation (i.e., sunlight). You have to remeber that Jambos are nearly 40 years old. Finding a Jeep that still has original black rockers is a very strong indication that it has seen little sun (e.g., it was garaged or stored for most of its life).
What about the bright rockers? The picture below on the left compares the front side of bright rockers to the rockers off of #0152. They are obviously different. The bright rockers look, well, bright. They have a mirror-like finish. The picture on the right shows the backside of these same rockers. The backside of bright rockers will still be silver in color, not black.
The bright rockers were also anodized. However, they were polished first. We don't know if they were mechanically polished, electro-polished, or bright dipped. If you look closely at the backside, you can see lines in the aluminum produced when the rockers were extruded. So, we suspect the front side was mechanically polished before anodizing.
You can tell the rockers are not chrome-plated because they will not conduct electricity. Perform a continuity test on your rockers using a voltmeter. Neither black nor bright rockers will conduct electricity because they are anodized. Anodizing deepens the layer of aluminum oxide that is naturally present on aluminum. Aluminum oxide will not conduct electricity. In contrast, test the continuity of your chrome wheels; they will conduct electricity.
We have also found that it is very hard to remove t-bolts from bright rockers. Whereas, old t-bolts will often slide out of black-anodized rockers.
Okay, so at least #0152 had black rockers. Perhaps it was unique. Not likely. First, just look at the pictures of Jambos on this site. Their rockers look exactly like #0152s--faded black. In addition, the stock photos of #2000 show black rockers.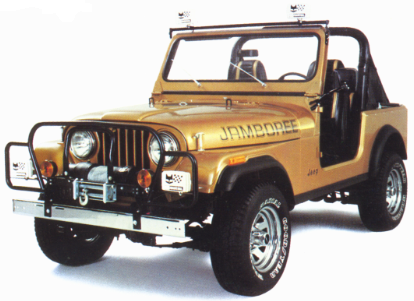 The Product Direction Letter (PDL) clearly specifies that the Jambo rockers were to be black.
In the right-hand column of the table above, it says "Decor Group (Less Bright Rocker Mldg.). By "less" they mean "without," not "lower intensity."
The PDL says that the rockers were from the Renegade/Laredo Package. The 1982 sales brochure states that the Laredo came with black rockers (see upper middle column below). There is not a single picture in the 1982 sales brochure of a Jeep with chrome rockers.
What about pictures of Jambos outside of the showroom? Here is a picture of a Jambo on the Rubicon trail during the 30th Anniversary Jeepers Jamboree. This Jambo is only weeks old and the rockers are black.



Source: Peterson's 4-Wheel & Off-Road, Nov. 1982.

Here are three pictures of #0199 from around 1986. This Jambo is currently owned by Rob Johnson. It was originally owned by Rob's uncle.

The top picture shows #0199 around 1986 with Rob's uncle. The middle picture shows Rob standing next to #0199. The bottom picture shows Rob today, in #0199. How cool is that?

The rockers in the top two pictures are clearly not chrome. The appear to be black and perhaps starting to fade. This Jambo was in Colorado at the time. It is sunny in Colorado.

The rockers in the bottom picture look just like the rockers on most Jambos today.

In addition, Rob confirms that the underside of his rockers are black.



What do original owners have to say?
This is #0029, owned by Andres Reyes. The rockers are black and Andres confirms that they have alway been black.



Andres lives in St. Charles, IL. What do they have less of in Illinois? Sunlight. So, the rockers have not faded.

This is #0176, owned by Curtis Supanchis, of Phoenix, Arizona. What do they have a lot of in Phoenix? Sunlight! And, Curtis does a lot of wheeling in his Jambo. The rockers look like clear aluminum.

Curtis confirms that rockers were originally black, but faded over time.
This is #0260, owned by Frank Gallucci, of Wakefield, RI. This Jambo has been in this region its entire life and garage kept. The rockers are, and always have been, black.

This is #

0491

, owned by Andy Zafiropoulos of Erie, Pennslyvania. The rockers are black. There is less sun in Erie and this Jambo has been kept in a garage and not taken outside at all during the winter months.

This is #

0

693

, owned by Eric Bickel. This Jambo was originally from Connecticut. It was kept in kept inside from 1987 - 2017; it was in a barn in Pennsylvania from 1990-2017 are rarely taken outside. The rockers are still black because it has received very little sun.
So, it is clear that the Jambo is supposed to have black rockers. Besides, bright or faded aluminum rockers next to gold paint looks horrible. Why would Jeep and Jim Alexander (Jambo designer) have done that? They didn't! If you are restoring a Jambo you need black rockers, period.
Refurbishing Your Jambo Rockers
If you refurbishing your Jambo, you will need to refurbish your rockers. The rockers were originally anadozied. Anadozing fades quickly and it much harder to make look good. Anadozing will show whatever the surface looks like. So, you need to really work your rockers to remove any nicks and scratches.
Because of this, we decided to powder coat our rockers. To find the right color, we color matched to an NOS black rocker. We used Black Semi Gloss (BK08) from Cardinal Paint. Below is a comparison of an NOS black rocker to our rocker. The top rocker is NOS; the bottom rocker is refurbished. We have these rockers for sale here.

Jeep is a registered trademark of FCA US LLC.
© Copyright 2018. J. Eric Bickel. All rights reserved
The Jambo Registry is a trademark of www.82jambo.com.


UA-83787031-1