1982 Jeep CJ-7 Jamboree
The Rarest CJ-7 Ever Built


Jambo Parts -- Marchal Fog/Driving Lights
Halogen Fog Lights


The Jambo came standard with Marchal 850 fog lamps and stone covers. The lights on the optional light bar are Marchal 859 driving lights. We believe most came with clear lenses, but some could have been amber, depending on state regulations. The housing was chromed plastic, not black plastic. The stone covers are very rare today.

If you are looking for this part check out our parts for sale.
If you just need replacement bulbs, this bulb will work.
According to the 1981-1986 Parts Catalog lists the Marchal fog light. This is the Marchal 850 light. The driving lights were the Marchal 859s (more on this below).



1. The lights could be ordered in clear (J575-6841) or amber (J575-6842), depending on local driving regulations.




2. The brackets (J575-6733) are hard to find today.


3. The cat medallion could be black (8350-2831) or gold (8350-2842).
4. The stone covers could be ordered in white (J575-6840) or black (5600-2068). However, the white covers are all that we have seen on 1982 CJs.

Here is the page from the parts catalog.


The numbering of Marchal lights works as follows (this information was provided by Daniel Stern from Daniel Stern Lighting):
The first two digits denote the Marchal lamp family. The first digit is the relative size of the light (first digit lower = smaller, higher = larger). The second digit is the shape (0 or 1 = round, 5 = rectangular).
The third digit denotes the lamp/reflector and corresponding lens type (0 = fog, 2 = spot, 9 = driving). So, for example:
Marchal 750: "7" smaller than 850, "5" rectangular, "0" fog
Marchal 859: "8" bigger than 750, "5" rectangular, "9" driving
Marchal 902: "9" bigger than 8, "0" round, "2" spot
You can tell by looking at the lens what type of light it is because the lens optics and markings are different for different beams.
Fog Lamp (850): Pronounced vertical fluting and a metal bulb shield between the bulb and the lens, along with (E) [B] markings

Spot lamp (852): Almost window-clear lens with utterly minimal fluting, if any. Might or might not have an (E) mark; if it's present the marking near it will be [HR].

Driving lamp (859): Moderate amount of lens fluting and (E) [HR] markings.
| | |
| --- | --- |
| Marchal 850 with Clear Lens | Marchal 859 with Amber Lens |
The Jambo came standard with Marchal 850s on the bumper. These are medium sized regtangular fog lights. The optional driving lights would have been Marchal 859s. Driving lights must be mounted above the headlights, according to driving regulations.
The back of the chrome light housing might say Marchal 850 or it could say Marchal 850 852 859 because they used the same housing for all the lights.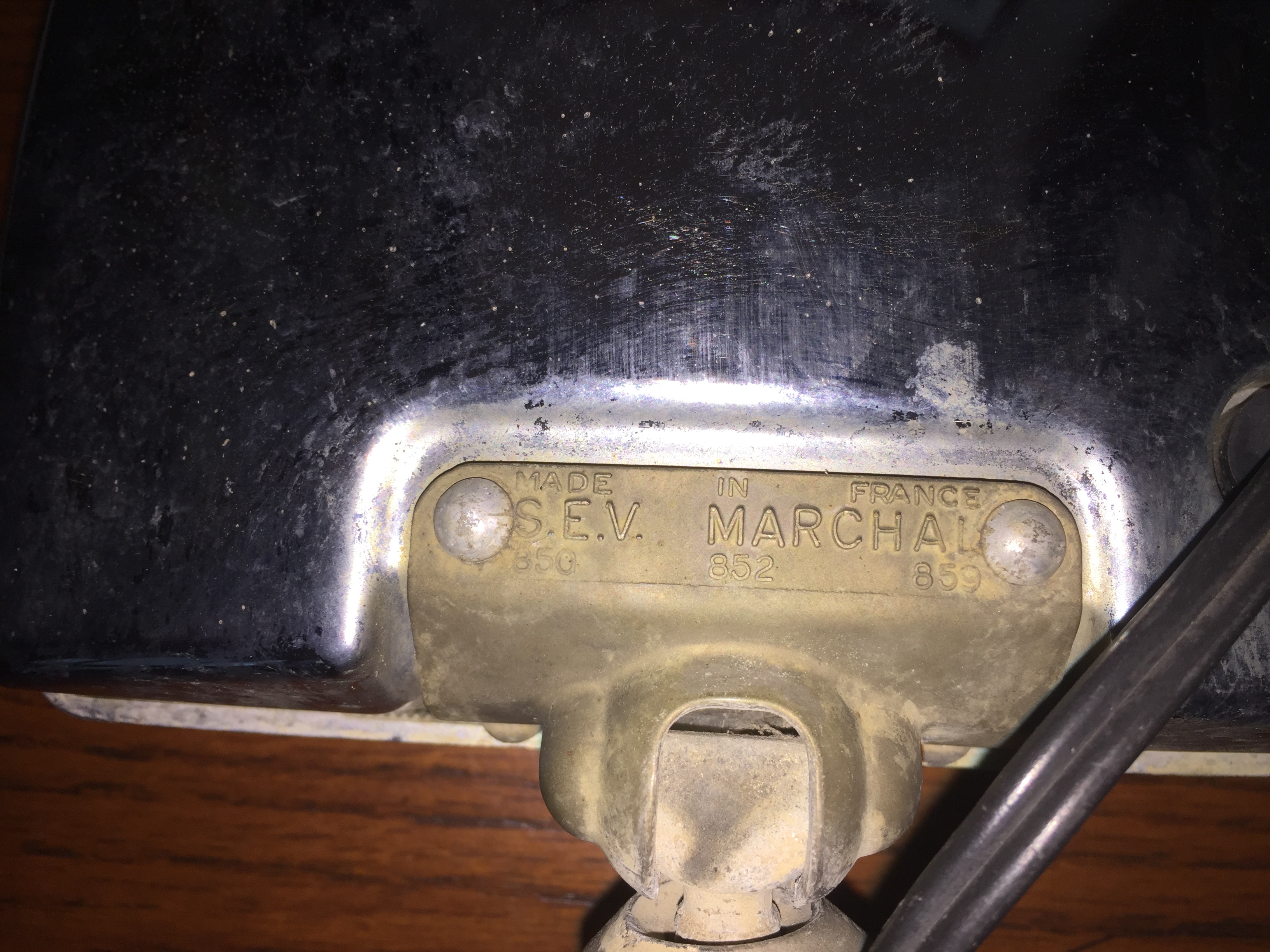 Here is a page out of a parts catalog from a 1974 parts catalog featuring Marchal 850s.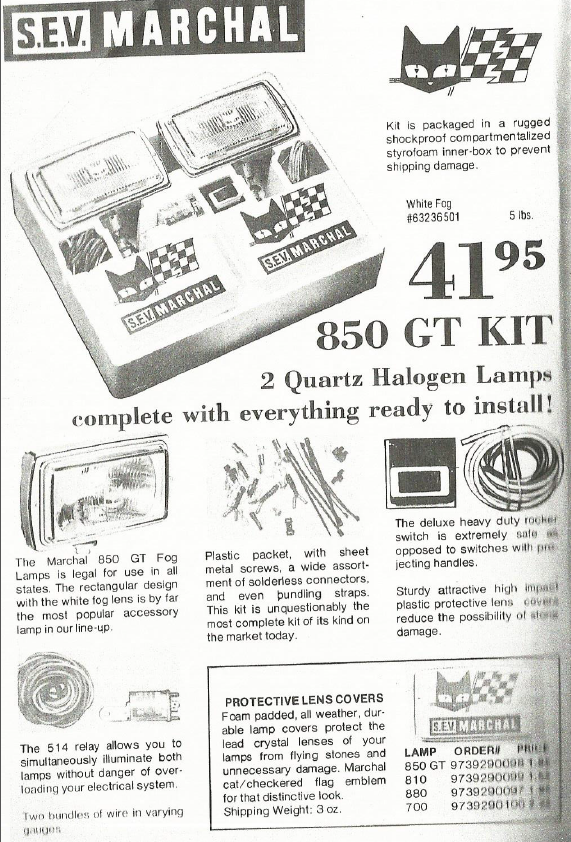 Boy, I wouldn't mind finding some of those $1.50 stone covers!

Jeep is a registered trademark of FCA US LLC.
© Copyright 2016. J. Eric Bickel. All rights reserved
The Jambo Registry is a trademark of www.82jambo.com.


UA-83787031-1